Woohoo! You did it! Course 5 is complete and you are finished with the COETAIL program!
It's hard to believe it's already over, and how much you have all been able to accomplish in only a year and a half. Of course, we encourage you to continue your journey in whatever way feels right for you! Here are a few final announcements:
Amazing Course 5 Projects
Wow. Your projects were outstanding in so many different ways. We wanted to highlight a few that were particularly amazing so you have the opportunity to watch them if you haven't already. Of course, that doesn't mean if your project isn't highlighted that it wasn't outstanding, these are just the ones we want to make sure to share or stood out in some unique way!
---
Kate Hall: Student-led Conferences with Online Portfolios Middle School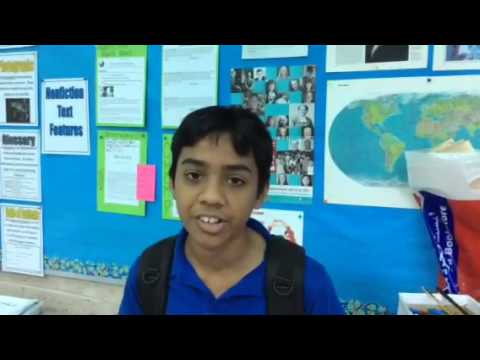 If you're considering whether Online Portfolios are worth the effort or if you're looking for ways to improve your class/school's way of doing ePortfolios, then this final project video is a must-see!
Not only does Kate share reflective and detailed steps, she also shares her ideas for improving the whole process next year. Student ownership of learning is evident in this project!
---
Tricia Friedman: Dividends on an Investment
This inspiring project demonstrates how exciting it can be when students blog authentically and by their own choice. And it's High School students! It features students & teachers reflecting on the process and the essential foundations for successful and authentic blogging. There are a variety of tools present – each one purposeful and authentic in it's use. Tricia also shares a very important message about "time".
---
Amanda Shaw: Process Art in Year 6
Amanda has always shared well-documented, thorough and reflective final projects throughout all of the CoETaIL program and her final course 5 project is no exception! It's details include how the unit allowed technology to be used and it's purpose for the use of the tool. It's great to see students looking and sounding extremely engaged and in control of their own purposeful and meaningful learning.
---
Jocelyn Sutherland: CARP Jr: Design Principles Redefined for KG-G2
What's really interesting about this final project from Jocelyn is that she identified a gap in learning and created a unit to authentically address that gap. In this meaningful, purpose driven project authentic change helped students own the learning. And this was done with KG-G2 students!
---
Amanda McCloskey: A Minecraft Inquiry [Grades 1-5]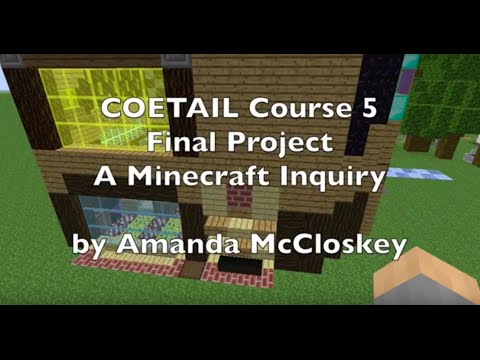 There were a few projects revolving around Minecraft throughout our cohort and each had its own unique and successful approach to integrating it into the classroom. Amanda's students went through elements of the design cycle to plan, design and construct a new school. This type of project encourages collaborative thinking and teamwork and proves to students and parents that Minecraft isn't just for play!
---
Angela Langlands: Farm to Table Minecraft Integration [Grade 2]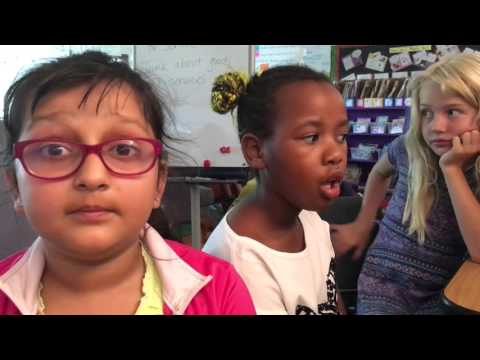 You know a project is going to be an interesting challenge when the post starts with, "African power outages got the best of us on a few occasions." Angela says it all with, "The students were already so passionate about Minecraft, that the use it just played right in to their hands. The engagement level was at it's peak and the students far exceeded our learning expectations." And that's part of the enticing nature of Minecraft – the natural engagement that so many students feel. But as she noted, that can (and surely is for many teachers) something that can be a bit too enticing if students have prior experience using MC as a game first and foremost. She walks the audience through an honest assessment of how this all came together.
---
Ann Durham: Major transitions for HS students (to College, etc) [Grades 11-12]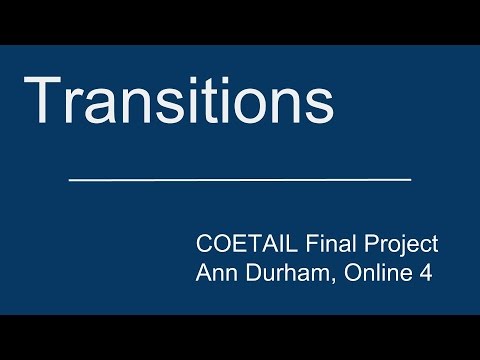 Ann's project is a prime example of empowering students to make decisions about how their preferred and ideal work environment. She allowed them to have a say in not only where and how they'd like to work but also which device, platform and communication method they'd prefer. There are powerful student interviews within the video which helps take the audience through their perspective.
---
Leah Bortolin: Badges for PYP Final Exhibition [Grade 5]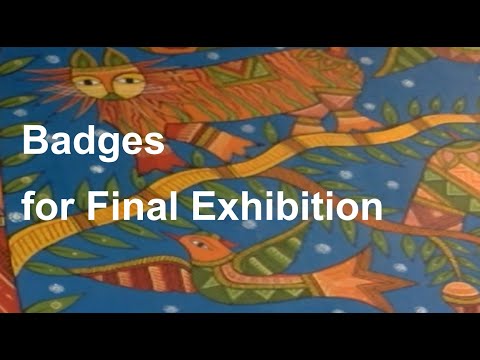 Leah was always up for a challenge throughout our cohort. She continually pushed herself beyond the boundaries of her comfort zone and it sure did pay dividends. As with a couple of you, she switched schools midway through Coetail – what a challenge that must be! If you have any desire to learn more about badges or all the thinking and design that happens behind the scenes, this is highly recommended!
---
Matt Fron: Flipped Learning and Visual Readings [High School]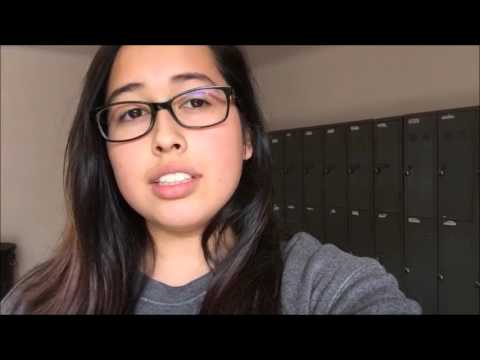 Flipped classroom and similar models are often discussed but what are some of the actual challenges and pitfalls of trying it in a HS English setting? Check out what he has to say about it: "In the end, I created over 60 videos that spanned these categories. I also had students create their own flipped videos to demonstrate their learning. Through these, students were able to navigate their way through learning the key skills necessary for the unit in the order and at the pace that was right for them. It became a personal journey."
---
Paul Browne: Improving student conceptual understanding in a Grade 10 electricity unit [High School]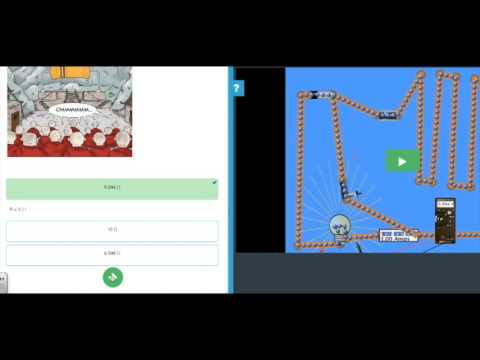 Differentiated learning is often a tangible benefit of tech integration. Paul walks us through the project with an honest and detailed evaluation of what worked and what was challenging with this unit. It's clear that for many ESL/EAL students, the act of bringing voiceovers, diagrams and deep thinking together offers a chance to redefine learning experiences. It's a powerful reminder to those of us working in international schools especially.
---
 Rob Langlands: Flipped Programming [High School]
Rob has taken a complex unit and embraced the power of flipping lessons to free up his time in the classroom. The self-paced nature of the videos provides a similar benefit to what I noted about Paul's project above. For those of us working internationally, this is an especially important reminder – students can watch, rewind, slow down and digest lessons on their terms and in their own time.
---
Tara Barth: Environmental Student Projects [Grade 1]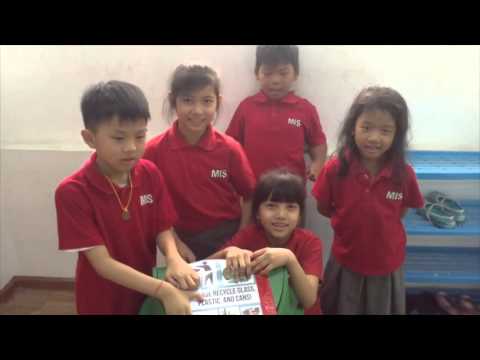 Talk about tackling a challenge! Tara managed to get her Grade 1 students to not only collaborate with other classes around the world, but to learn about blogging, publishing, sharing, create videos about recycling, and the creation of a school garden. I'm not even sure I could tie my own shoes at that age and yet she's successfully attempted things many students may not experience until middle school!
---
Tracy Blair: Global Book Clubs [Grade 4]
Tracy's students were able to reach out to other students around the world in real-time and students loved it. They were asking fantastic questions and were super engaged. By not only authoring content, but publishing, sharing and receiving comments, she's preparing them for a world that's increasingly connected and learning together despite physical borders. Student reflections bring the audience into the learning journey and provide a special perspective on their experience with this unit.
Outstanding Community Engagement Posts
We know this is a challenging task. Not only to take your COETAIL interactions to the next level to really be involved here in this community, or to create one of your own, but to then document it in a way that really represents your journey is not easy. However, we firmly believe that this is the most important learning in the entire COETAIL program: you creating your own PLN so that you can always be learning is what we want for you. Here are some great examples from your fellow COETAILers who are really walking the talk:
We love how different and unique each of these posts are. They all tell the story of a teachers journey with developing a PLN, but we all go through that process in different ways. There is no right or wrong way, there is no one way, but we hope all of you end this course feeling like you can make those connections both for yourselves as learners as well as to support your students in their personal learning journey.
Staying Connected
Well, this is pretty much the end for our cohort! Of course you will still have access to your blog and the COETAIL community, the Twitter hashtag, and the G+ group, so you won't lose your COETAIL connection.
We absolutely encourage you to keep blogging on your COETAIL blog, to keep sharing in all of the awesome PLN spaces you have developed, and to keep challenging yourself to try new things. When something is awesome (or when you need a little help) don't hesitate to get in touch!
Feedback for Us
There's one last thing we'd love for you to do before we completely sign-off from our Online 4 Cohort Blog.  We would really appreciate your feedback on the CoETaIL course – warts and all, so please consider taking a few moments to fill out our feedback form below.
Thanks so much to all of you. It was a true pleasure working with you and we hope you'll stay in touch!
Cheers, Brandon and Chrissy